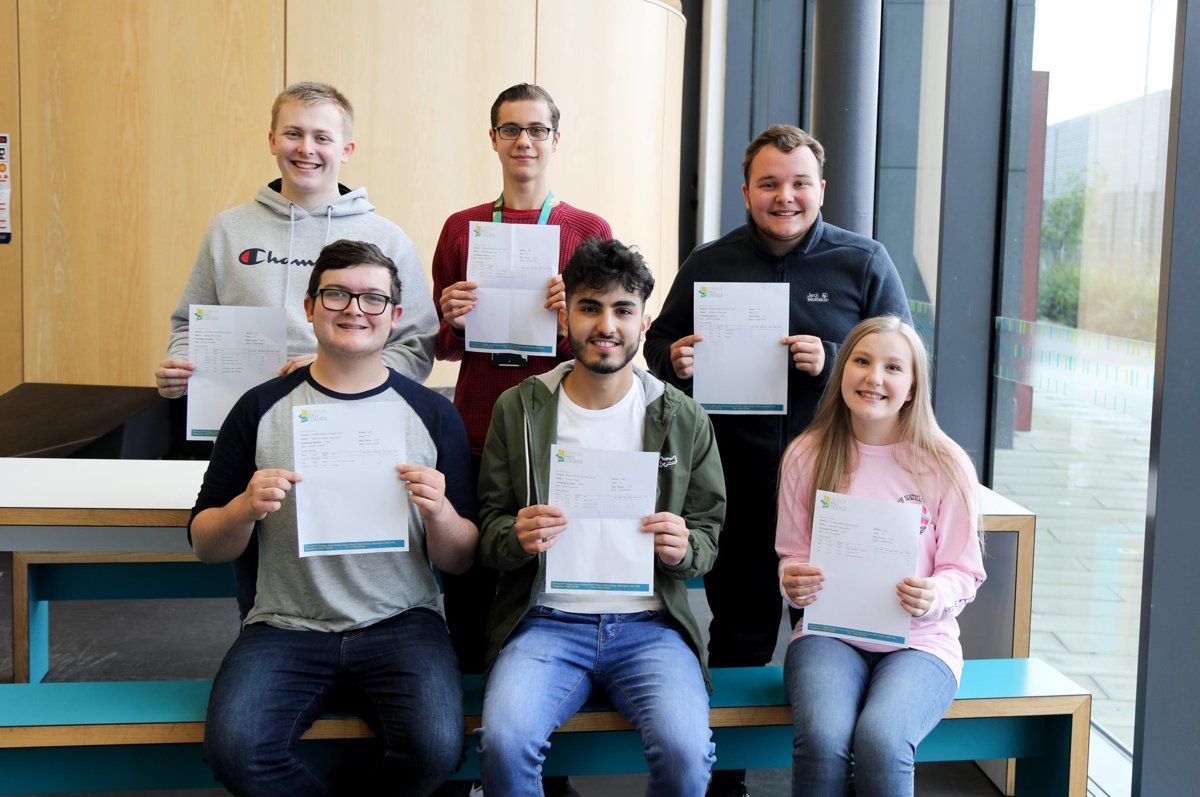 Barrow Hall College is celebrating its best ever results! We want to congratulate students and staff for all of their hard work which has definitely paid off! This is particularly pleasing to report in a climate of reformed and more challenging level 3 qualifications.
The class of 2019 have produced a fantastic set of results, beating last year's results in all measures. The A*-B grades in 3 subjects measure has increased by 17% and A*-C by 9%. Students studying three facilitating subjects achieving A*AB has increased by 8.5% and those studying two and achieving A*AB has doubled!
These results have enabled the vast majority of those who applied securing their place at university. There have been notable individual successes with Will and Matthew securing their place to read Psychology and Music (respectively) at University of Cambridge. Furkan having received offers from all of the prestigious medical schools he applied to has successfully achieved grades above those required and we have three students (Tom, Matthew & Hannah) achieving all top grades who are going on to read Law at university.
An increased number of students are going on to read Maths at university including Lewis who achieved A*A* A grades and Thomas A*AB. Other students achieving top grades include Matthew who achieved AAA and has secured his place to read history, Chloe (AAA) going onto read Genetics, Ben (A*AA) Computer Science, Haashim (A*AAA) Engineering, Olivia and Lydia (AAB) Psychology and Katie (AAB) English Lit.
We are proud of our joint college presidents who managed to keep on top of their studies whilst carrying out their presidential role throughout their time at college. Jon who achieved AAB is an aspiring primary school teacher and Chris, who achieved AAC, is going on to read international relations in Scotland.
We have once again maintained an average grade of Distinction in vocational subjects and we would like to congratulate Owen, Jack, Bryan, Daniel and Lee who achieved all Distinction/Distinction* grades in their vocational subject areas. It is fair to say that the number of quality, respected apprenticeships and employment opportunities secured by our students is increasing year on year.
To name just a few of our 40+ courses gaining excellent results, MFL have succeeded in achieving 100% A*-B in French and 66.7% A*-B in Spanish, whilst English Literature has achieved 80% A*-B with a 100% pass rate, Philosophy and Ethics 72.7% A*-B and 100% pass rate. The Social Sciences department continues to excel, maintaining 100% pass rate and 55% and 58% A*-B in Psychology and Sociology respectively. Our humanities department is also going from strength to strength with Geography achieving 59% A*-B grades and History 45.5% whilst maintaining 100% pass rate.
The college team would like to take this opportunity to congratulate all of our students and to wish them the very best for what we are sure will be a healthy, happy and successful future. We would also like to thank our staff – the results are testament to the quality of teaching at Barrow Hall College.
We are looking forward to another successful academic year and welcoming our new year 12 students in September.