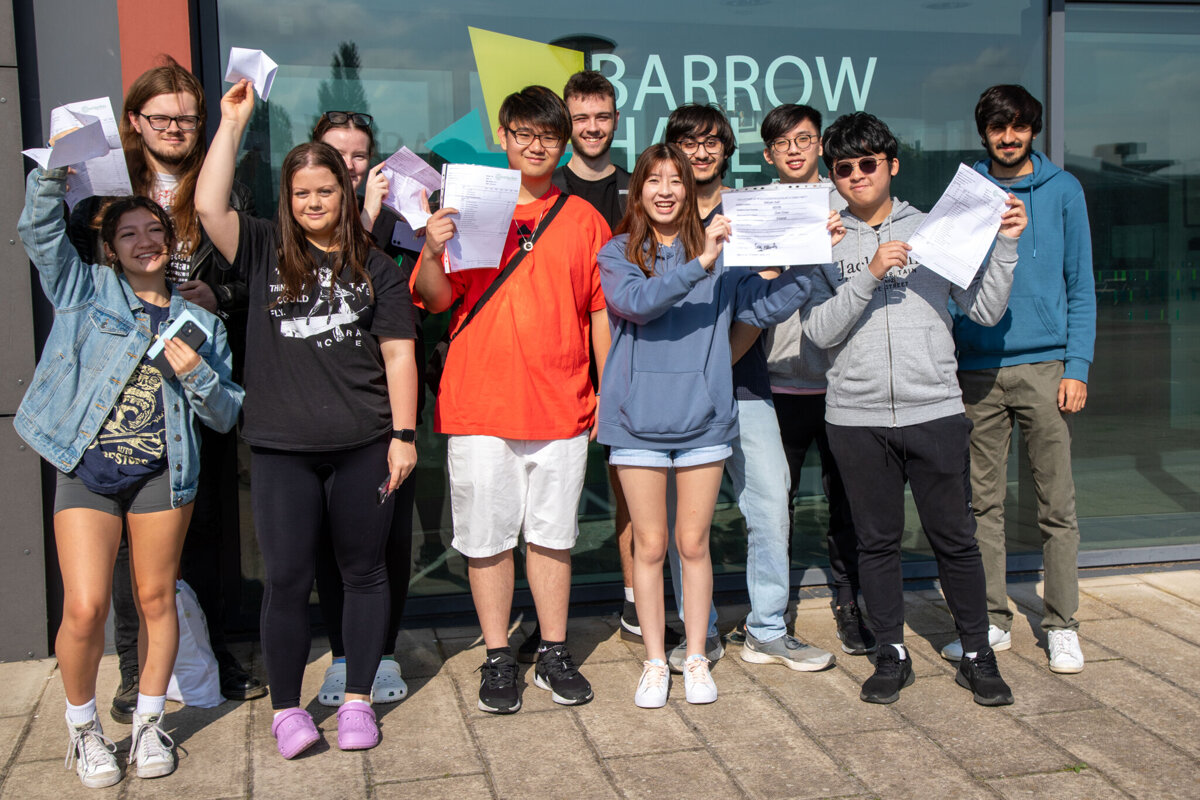 Barrow Hall College is delighted to celebrate the successes and achievements of our 6th form students who have worked hard throughout their courses, demonstrating an unwavering commitment to their studies. Their results are a reflection of that, and we would like to wish all students the best of luck in their future endeavours, whether that be continuing their studies, entering the world of work or embarking on an apprenticeship.
Our students are going on to study at some of the most prestigious universities around the country, including Oxford Cambridge and Bristol. Studying subjects as diverse as Biomedical Engineering, Zoology, Mathematics, Marine Biology and Motorsport Engineering.
Notable successes include:
Django with A* A* A* A* B going to study Mathematics at Oxford
Ryan with A* A* A going to study Law at Cambridge
May with A* A B going to study Physiotherapy at Liverpool
Jess with A* A B going to study Law at Queens University Belfast
Tom with A* A* A* A A going to study Mathematics at Bristol
Michael with A* A* A* A going to study Chemical Engineering at Imperial College London
Ben with A* A* A going to study Chemistry at Imperial College London
Joy with A B B going to study Chemistry at Liverpool

Students studying vocational subjects also excelled with successes including Sophie with the highest possible mark of Distinction* in two subjects going to study Zoology at Salford and Muntazir with two Distinctions on his way to study Biology at Manchester Metropolitan University.
Students are also studying further afield such as Lucie who begins a sports scholarship in Soccer and Political Science at Queens University of Charlotte in America.
Students have also found success taking up apprenticeships across different sectors including Law, Resource Management, policing and Film Production.
Helen Stones, Head of College said:
"I am incredibly proud of a fantastic set of results achieved by everyone after the challenges they have had to face over the last few years, remembering of course that due to COVID, these are the first external exams that Year 13 students have taken. We have had a great day full of lots of happy students. Up to now 96% of students who applied to university have a confirmed place. Our students are going on to a range of destinations and are continuing their studies across the country with many having secured apprenticeships."
All the staff at Great Sankey High School, Barrow Hall College and across Omega Multi Academy Trust would like to congratulate students and wish them every success for the future.