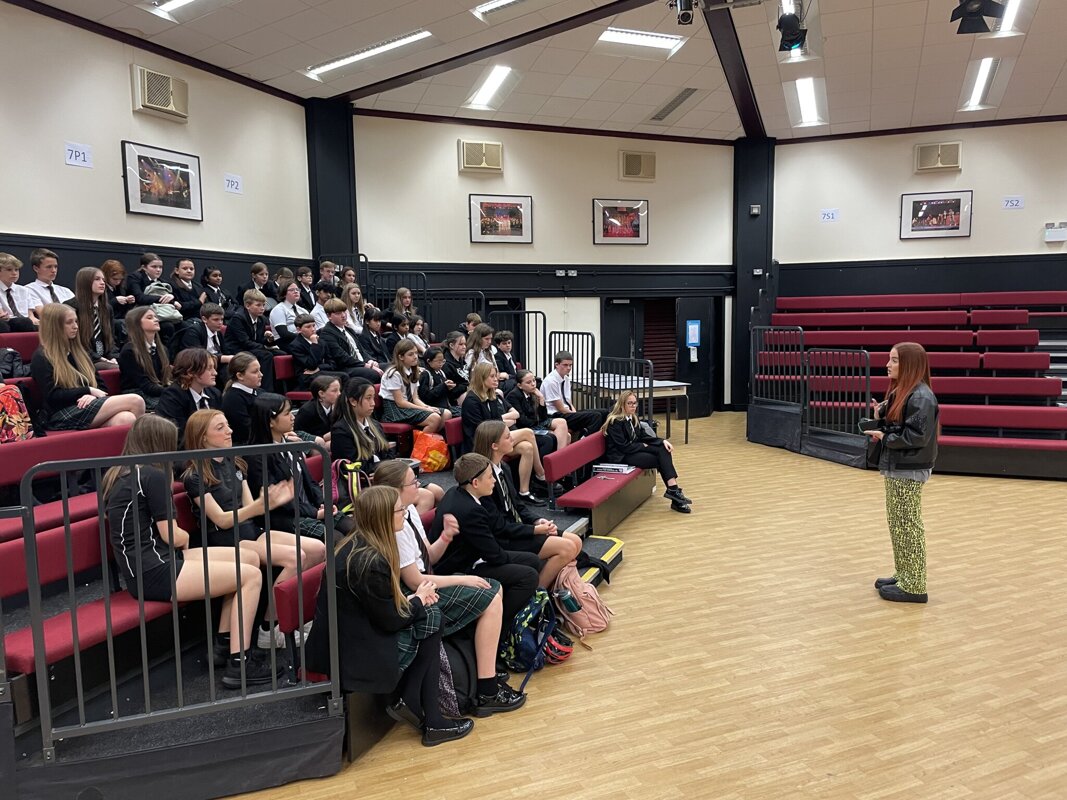 In an exhilarating turn of events, one of our own, Harlee Sudworth, has catapulted into the limelight as a singing sensation, securing chart-topping success with her recent singles. Harlee recently graced the halls of Great Sankey High School to share her journey and insights with aspiring performers in a "Question and Answer" session.
Harlee's musical journey began at the tender age of eleven when she started covering songs and sharing them on YouTube. By the age of twelve, she was already performing at renowned venues, including the prestigious O2 arena, as part of the Teenstar singing competition. Fast forward a few years, and Harlee is now published by Warner Chappell and managed by Ian Robinson and Rob Harvey.
The talented artist not only shines as a performer but has also proven her prowess as a songwriter, contributing to tracks for other artists, including the renowned Afrojack and Joel Corry.
During her visit to Great Sankey, Harlee conducted a "Question and Answer" session with Performing Arts students, offering valuable insights into her journey and the music industry. She expressed deep gratitude for her music teacher, Jo Cosgrove, who played a pivotal role in nurturing her talent and providing opportunities for growth.
In her own words, Harlee shared, "Creating those relationships with teachers is super important. Don't be disrespectful to them as they only want to help and support you!"
Harlee's journey is marked by perseverance, self-expression, and a deep love for music. She emphasized the therapeutic nature of songwriting, describing it as her personal form of therapy that helped her navigate through emotions.
Some of Harlee's notable successes include her collaboration with Joel Corry on "Lonely," which charted at No.4 in the UK charts and gained global acclaim. She also contributed to James Hype's "Afraid," which continues to receive radio play.
Harlee's message to aspiring musicians is grounded in hard work, resilience, and authenticity. She encourages networking, experimentation, and perseverance, reminding them to stay true to themselves and their unique voices.
Here is Harlees full message to the pupils of Great Sankey High School.
"Hi, my names Harlee and I'm an ex-student at Great Sankey High School and Barrow Hall College. I had the best music teacher (the one and only Jo Cosgrove) who pushed me and believed in me and I'm forever grateful for the guidance and opportunities. She really helped me come out of my shell and soon I was singing in front of the whole school! Creating those relationships with teachers is super important. Don't be disrespectful to them as they only want to help and support you!
I started singing and writing my own songs when I was 12, it was all I ever wanted to do. I've always gravitated towards music, and it's always been something I've been passionate about. I always struggled with my feelings and emotions, so I started to write about it, and they became songs. It's my therapy! I was super shy in school and really in my shell, but music has allowed me to express myself and it's helped me grow as a person.
My biggest inspirations in music are Amy Winehouse, Adele, Whitney Houston, Nora Jones, Tom Odell, Lady Gaga, Nelly Furtado, Avicii, Calvin Harris to name a few!
I had my first successful song with Joel Corry's - Lonely where I sang and wrote on it! It charted at No.4 in the UK charts and was a worldwide smash.. I couldn't quite believe it. I'll always be grateful for the opportunities that came my way from a song that was wrote in a bedroom with my two friends!
I also had James Hype's - Afraid which went down well on radio! Still gets played to this day which is madness! That's definitely one of my personal favourites! I also sang and wrote on that one.
I've wrote with some of the most incredible writers and producers. to name a few Lewis Thompson who's wrote and produced for James Hype, Anne Marie, Little Mix, Becky Hill. Rob Harvey who's wrote for David Guetta, Ella Henderson, Joel Corry, Louis Tomlinson. RØRY who's wrote for Sam Feldt, Jax Jones, Alok, Joel Corry.
I've had the pleasure of performing at the most incredible venues such as Ibiza Rocks, Capital Jingle Bell Ball, the 02 Arena in London, We Are Festival, Radio 1's big weekender!
Some advice I can give would be to network. Reach out to people you want to work with, don't be shy! Social media is a big place, and you can do so much with it! Get yourself out there. Experiment. You won't always be acknowledged but remember to keep trying, don't give up at the first no. Practise practise practise. Write write write. Be YOU. Don't compare yourself to other people. Enhance your uniqueness and don't be afraid to express yourself. Be kind to people and always remember where you came from. Stay humble and grounded. Believe in yourself.
I've had a bumpy but exciting ride so far in the music industry. I'm super grateful for everything that's came my way. It's tough & there's tears and low moments but there's also so many highs that makes it all worth it.
My social media is "harleemusic". My new single is available to stream and download October 6th. It's called "Same Old Song" with Vibe Chemistry! I hope you like it as much as I do :)

Keep in touch! "
As Harlee continues to ascend in the music industry, her latest single, "Same Old Song" with Vibe Chemistry, is set to release on October 6th. The Great Sankey community eagerly awaits this new chapter in Harlee's journey and wishes her continued success.
As mentioned, to stay connected with Harlee and explore her musical endeavours, you can follow her on social media @harleemusic. Mark your calendars for October 6th to stream and download her latest single, "Same Old Song." The Great Sankey community stands united in support, cheering for Harlee's ongoing achievements in the world of music.