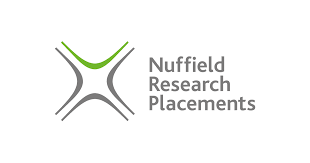 We are thrilled to announce that Mysha, one of our talented Year 12 students, has been awarded a prestigious Nuffield Research Placement (NRP). The NRP programme offers exceptional students the opportunity to engage in hands-on research projects, allowing them to make a meaningful contribution to the work of a host organization. Mysha's successful selection for this program is a testament to her outstanding abilities and dedication.
During her Nuffield Research Placement, Mysha will be focusing on improving disease outcomes for children with kidney disease. She will be placed at Alder Hey Hospital in the paediatric nephrology department, where she will work under the guidance of experienced professionals. This two-week placement will provide her with a comprehensive understanding of the field and allow her to conduct valuable research both at the hospital and from the comfort of her own home.
When asked about her selection for the Nuffield Research Placement, Mysha expressed her gratitude and excitement. "To have been selected means a lot, as it's a highly selective program," she said. "This amazing opportunity will not only provide me with valuable experience, but also give me something unique to talk about in my university applications."
Mysha recognizes the immense value of this placement, not only for her academic pursuits but also for her future aspirations. "This placement will enable me to see the inner workings of a hospital and may even help me determine my specialization in the future," she explained. Her ultimate goal is to study medicine and become a doctor working for the NHS, and this placement will undoubtedly bring her closer to realizing her dreams.
Throughout the Nuffield Research Placement, Mysha will develop essential skills that will aid her in her A-level studies and beyond. In addition to gaining valuable practical experience, she will also have the opportunity to create a poster showcasing the research she conducts during the placement.
We are immensely proud of Mysha's achievement and her commitment to pursuing her passion for medical research. Her selection for the Nuffield Research Placement is a testament to her abilities and potential. We wish her all the best during her placement at Alder Hey Hospital and are confident that she will make the most of this unique opportunity. Congratulations, Mysha!